The Columbia | Corning Advanced Materials Prize
The Columbia | Corning Advanced Materials Prize supports interdisciplinary Columbia-based teams developing innovative advanced materials technologies with the potential to transform industries.
The accelerator is a joint effort between: 
2021-2022 Awardee Announcement:
Corning Incorporated and Columbia Technology Ventures announce the successful completion of the first cycle of the Advanced Materials Prize. They are pleased to award the inaugural prize to Dr. Ioannis (John) Kymissis and PhD candidate Christine McGinn. The winning team will be awarded prize funds in the amount of $50,000. Semifinalists teams led by Dr. Samuel Sia and Dr. Nanfang Yu will have the opportunity for continued collaboration with Corning. The three teams, headed by Columbia University professors Dr. Kymissis, Dr. Sia, and Dr. Yu, had different areas of focus within the advanced materials landscape. Team Kymissis focused their efforts on ceramic tapes, using those materials as a substrate for advanced thin film electronics. Team Sia dedicated their efforts to developing and integrating advanced manufacturable materials for microfluidic PCR. And Team Yu aimed to create a wavelength selective meta surface that molds the optical wavefront at selected colors but stays transparent over the rest of the spectrum for applications in augmented reality and transparent displays. Teams attended panel discussions and workshops with experts in the field, including Dr. Waguih Ishak, Division Vice President and Chief Technologist at Corning Research & Development Corporation, and Dr. Adam Sharkawy, Co-Founder and Managing Partner at Material Impact. Additionally, teams connected with Corning research directors with similar areas of expertise, exchanging resources and knowledge. During these recurring meetings, research directors at Corning helped to identify commercial opportunities, provide feedback on teams' research, and shape their efforts. The program concluded with a showcase on Wednesday, September 15. During this presentation, the teams shared the results of their research to date, as well as their vision for their future partnership with Corning.

Corning Incorporated and Columbia Technology Ventures are thrilled by the success of the first cycle of the program. They congratulate Dr. Kymissis and Christine McGinn on their success and look forward to the continued collaboration.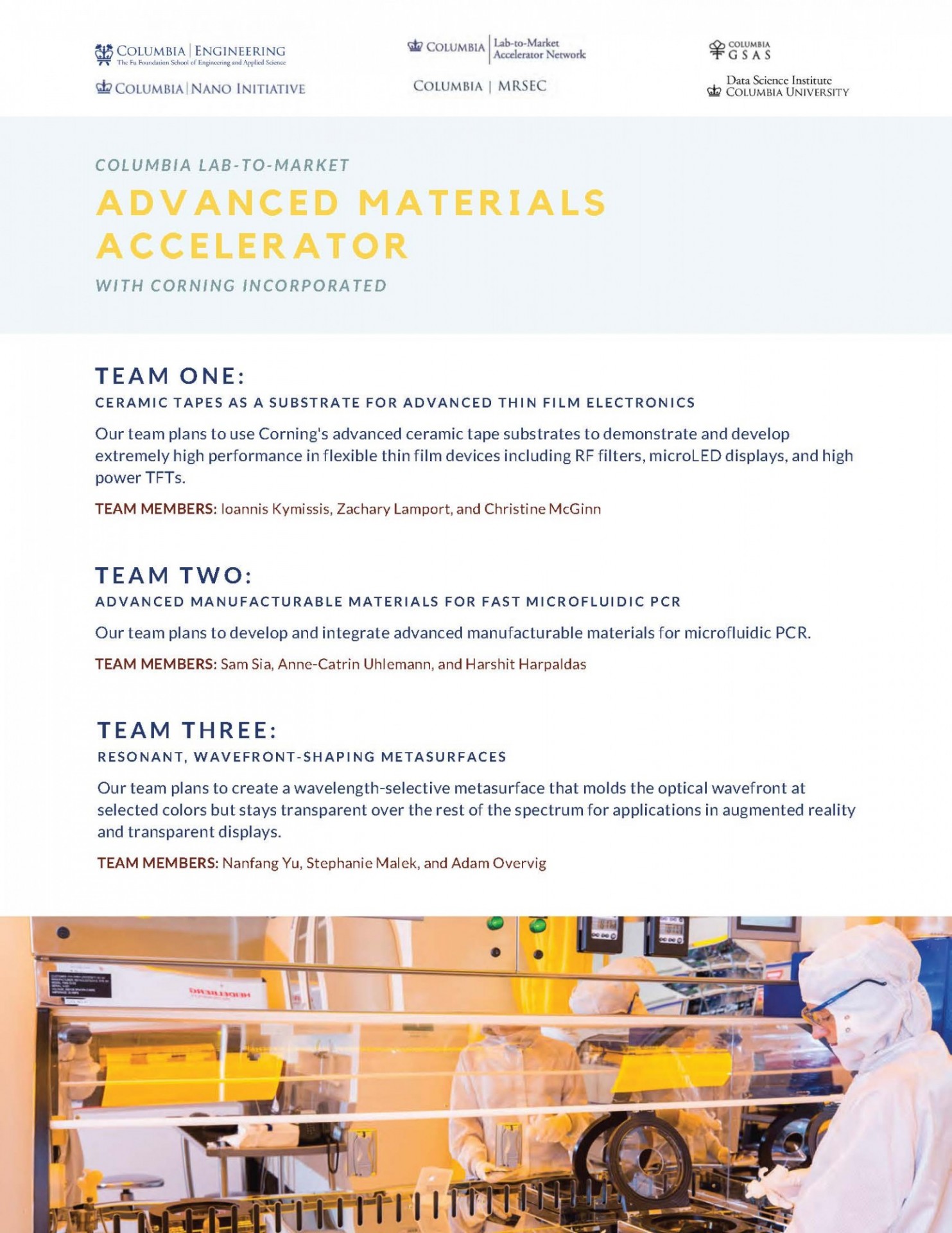 Program Areas of Focus
Application areas include cell/gene therapy, cell and organoid culture technologies, sorting and separations technology, lab automation technology, imaging, diagnostics, microfluidics, high throughput synthesis of DNA/RNA.
Application areas include RF electronics, energy storage, and filtration of gas and liquids.
Application areas include new technologies for quantum memory, quantum communication.
Applications include advanced windows, bio-active coatings, novel optical coatings, super hydro and oleophobic.
Application areas include LED/OLED displays, thin films for electronics and optoelectronics, microLED technologies, holographic and light field technologies, flexible displays, transparent displays, near eye displays, novel backplanes and driving electronics.
Applications areas include solid state batteries, silicon anode technologies, flexible batteries, novel energy storage concepts.
Optical communications, 1D-2D-3D polymers, phase change materials, Roll-to-roll processing of novel systems, mmwave and terahertz technologies, Y-doped crystals, novel catalysts.
Benefits for Participating Teams
Shortlisted projects receive ~$2,000, while the finalist receives up to $50,000
Projects receive entrepreneurial training and access to industry-facing mentors
Teams will have the opportunity to work with advanced materials experts, startups, and investors, including but not limited to executives at Corning