The Columbia | Corning Advanced Materials Prize
The Columbia | Corning Advanced Materials Prize ran from 2020 - 2022 and is now dormant.
The program supported interdisciplinary Columbia-based teams developing innovative advanced materials technologies with the potential to transform industries.
The accelerator was a joint effort between: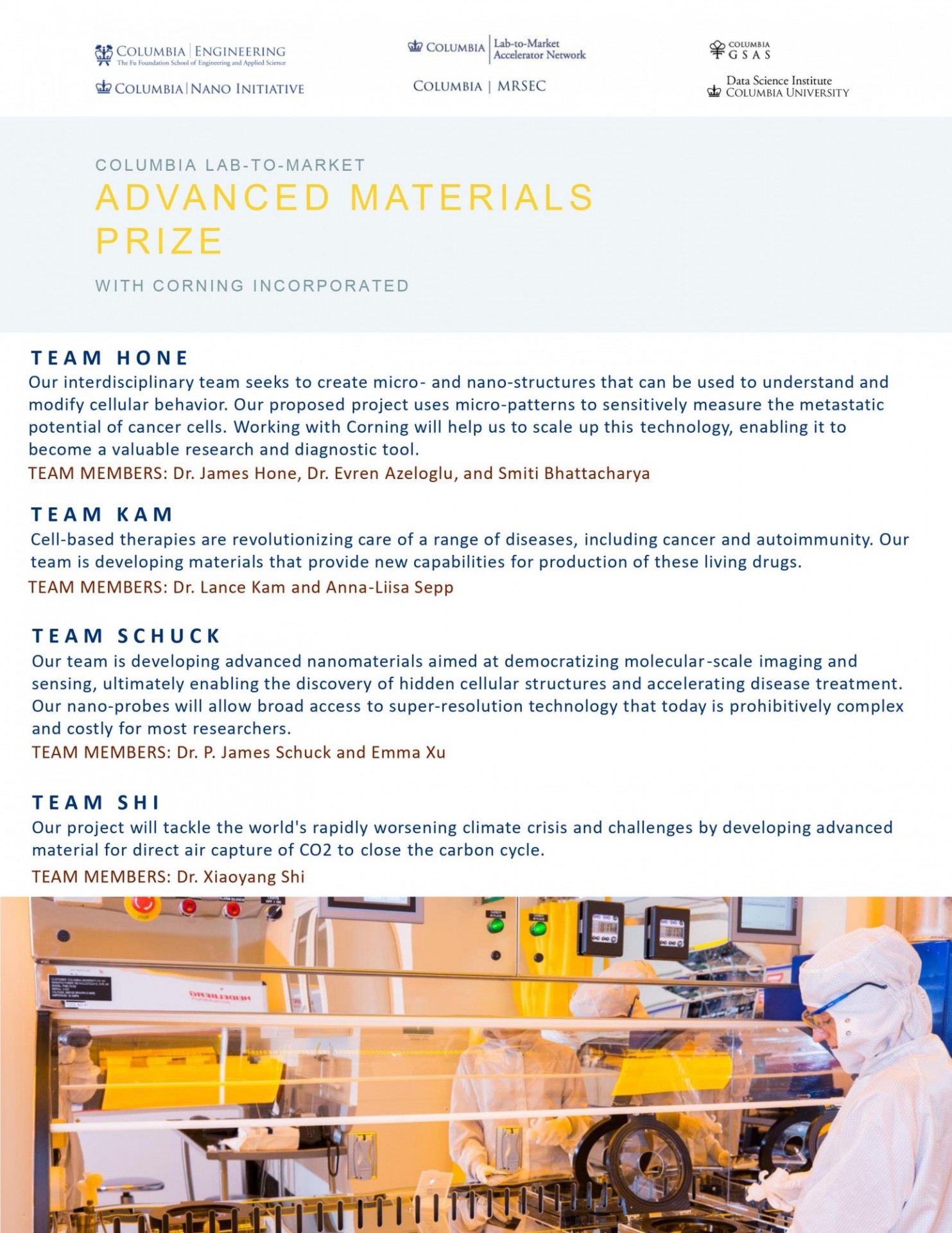 Program Areas of Focus
Application areas include cell/gene therapy, cell and organoid culture technologies, sorting and separations technology, lab automation technology, imaging, diagnostics, microfluidics, high throughput synthesis of DNA/RNA.
Application areas include RF electronics, energy storage, and filtration of gas and liquids.
Application areas include new technologies for quantum memory, quantum communication.
Applications include advanced windows, bio-active coatings, novel optical coatings, super hydro and oleophobic.
Application areas include LED/OLED displays, thin films for electronics and optoelectronics, microLED technologies, holographic and light field technologies, flexible displays, transparent displays, near eye displays, novel backplanes and driving electronics.
Applications areas include solid state batteries, silicon anode technologies, flexible batteries, novel energy storage concepts.
Optical communications, 1D-2D-3D polymers, phase change materials, Roll-to-roll processing of novel systems, mmwave and terahertz technologies, Y-doped crystals, novel catalysts.
Benefits for Participating Teams
Shortlisted projects receive ~$2,000, while the finalist receives $50,000
Projects receive entrepreneurial training and access to industry-facing mentors
Teams will have the opportunity to work with advanced materials experts, startups, and investors, including but not limited to executives at Corning