About L2M
The Columbia Lab-to-Market (L2M) Accelerator Network serves as a framework to successfully develop, launch, and execute initiatives to help commercialize academic research. Since 2008, Columbia University has founded or co‐founded multiple accelerator programs encompassing medical (therapeutics, diagnostics, devices, etc.), clean energy, advanced materials, artificial intelligence, pathogen surveillance, and digital media technologies, providing key resources to foster the development of teams who have gone on to raise more than $285M in additional funding.
The experience building and improving these programs yielded a powerful set of insights and best practices now leveraged through L2M‐ a collective model for providing core infrastructure and resources to programs supporting early stage university teams as they move technologies forward. By building on industry specific core competencies through their participation in the network, participating programs are able to prioritize focus on the provision of domain expertise to scientific teams.
To learn more about our programs, please review our Program Briefs.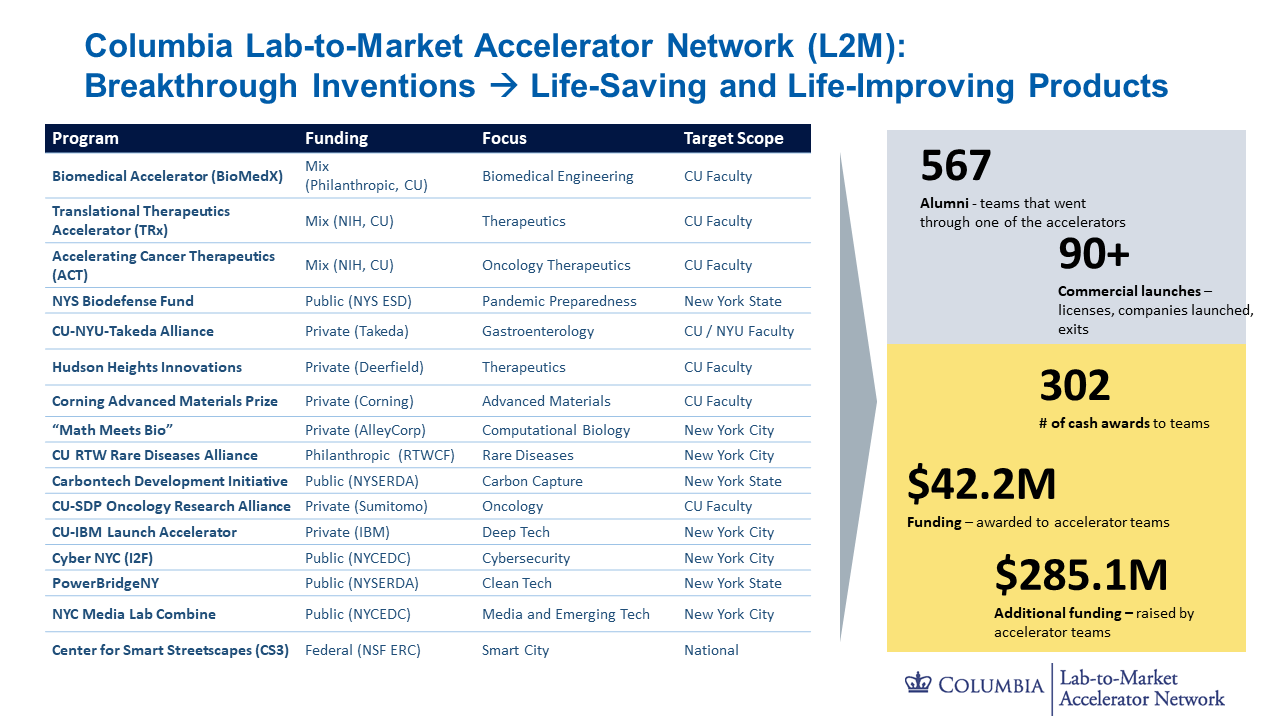 The Network Advantage
The Columbia Lab-to-Market Accelerator Network:
Leverages best practices and provides common processes via a shared cost model to support programs as they catalyze individual accelerator projects
Streamlines critical core functions, such as application management, overlapping educational resources, outreach and marketing support, event planning, and networking opportunities with industry representatives and the investor community.
Preserves each individual accelerator's industry‐specific expertise and programming while tapping core competencies from the Network.
Invites collaboration, feedback and questions from other universities, with the goal of creating a forum for sharing information, best practices, and lessons learned.