Founders Spotlight: GroupHug
Editor's note:
Student Venture Associate Irene Koo had a chance to virtually sit down with cohort member Krystal Persaud of Team GroupHug. GroupHug creates designer solar panels that hang in any window and charges your devices, providing users a way to be more eco-friendly.
May 05, 2020
Irene: Tell us about your team? How did it get started?
Krystal: I'm a solo founder, so I don't have a full full-time team yet, but I got started a little over a year ago. I was always passionate about sustainability, and I was frustrated by how hard it was to do anything in solar energy if you don't own a house. With my industrial design and consumer product background, I started making my own solar panels. I made some that I could attach to the window of my apartment. What I loved about that was I could wake up every day, see the solar panel, and charge something from it. It was a tangible way for me to enter renewable energy. I started off really slowly and organically. I used it myself, tested it, and thought it was cool. I then realized that this was a bigger opportunity to make sustainability really good looking and accessible, and that it probably wasn't just me who wanted it. From one solar panel, I started going to holiday fairs and sold more. I did a Kickstarter campaign to raise money for our first product – our window solar charger. From there, it kept going.
Irene: Tell us about your focus at the moment? What are you building and/or researching?
Krystal: We came into Combine with an existing product, so we are continuing to sell our window solar charger. We are working on manufacturing it right now and doing pre-orders. At the same time, because we have been researching and making solar panels, we can make them any shape and size. That was a big moment of realization – when we made a cat shaped solar panels for a museum in New York. This sparked a different business channel of being able to not only sell to consumers, but also to businesses.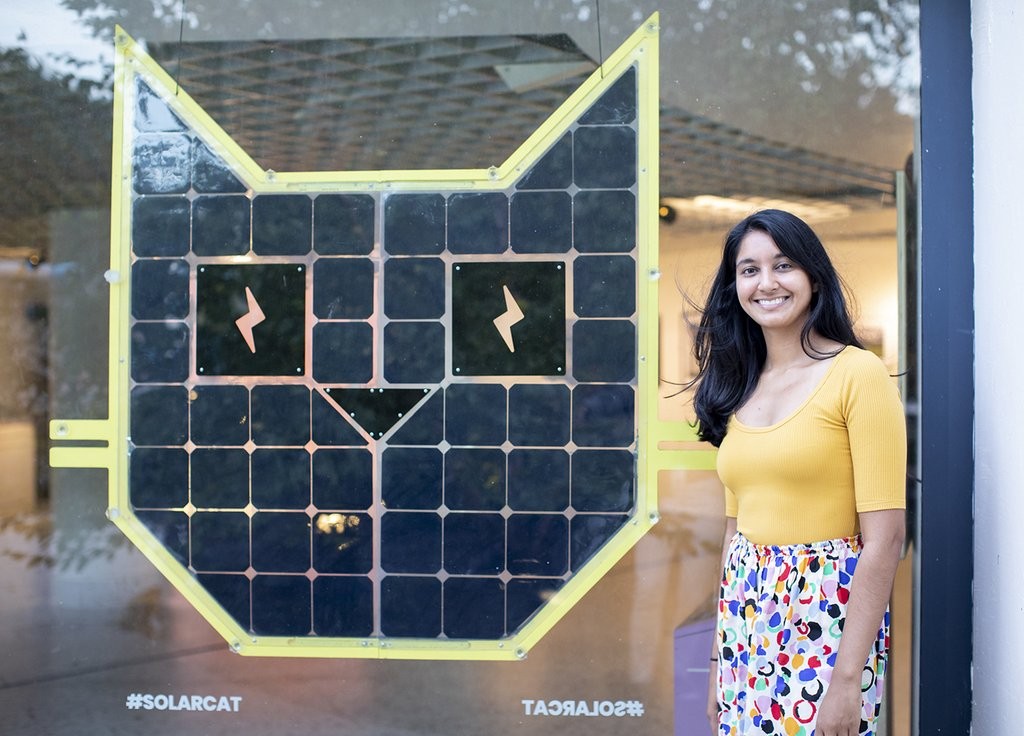 Irene: What is one fun fact about your team?
Krystal: It's been interesting because we are all working remotely, so we exclusively work from Slack. We're pretty nerdy – a lot of us post 80's movies, Star Wars… The thing I appreciate the most about my team is that we have all worked together at a different company before. We all came from a New York hardware network. Whenever we encounter problems, it's not our first time handling them, so I really trust my team.
Irene: Why did you choose to join the Combine?
Krystal: One of the biggest things for me is being a solo founder. I have to make up a lot of my structure and time. This is what keeps me excited, but it can also be intimidating. This is why I liked the Combine program – it had weekly structure, and I was in a cohort of other founders. I thought that the collaboration environment would be really helpful.
Irene: What are the biggest challenges you have faced since forming your team/startup?
Krystal: One of the biggest challenges is because we are building a physical product, the process takes longer and is more complex. Whenever you make a new product, whether it's for businesses or for consumers, there are development and testing timelines, physical sourcing and building. It takes a lot of patience, and that was the toughest part for me. Development and manufacturing also rely on a supply chain that can easily be disrupted, as we're seeing now.
The second biggest challenge that I have encountered is the different feedback. I probably get at least a dozen pieces of feedback daily, whether it's from a customer service email, social media, someone I know, or strangers. Balancing the feedback and deciding what is important and not important at such an early stage has been challenging. I would love to make solar panels for buildings and tons of different people, but you can't do it at the same time.
I have the philosophy of just starting and seeing what happens, so I think of everything we build as a working prototype. Do I think that the window solar charger as the only product we will make? No, although it's the only product available right now. [What is public facing] is the only thing that people react to, but for me, what is public facing is the tip of the iceberg. There are so many possibilities, but people can't always see the entirety of my plan. Presenting my idea one at a time so that it makes sense for the public is challenging.
Irene: What is the biggest lesson you have learned since joining the Combine? What are the next steps for your company/research?
Krystal: The biggest lessons came from talking to customers. I really enjoyed a lot of the cold calls that I did for the user interviews. I talked to people who didn't like or understand what I was doing, and I also talked to people who really liked it. This was really helpful, and it definitely made it less intimidating for me to cold call people and email customers.
Irene: What type of support/partnership are you currently seeking?
Krystal: In terms of support, the two things that are always top of mind are always reaching our network to expand our custom-made solar panels. Target, Walmart, Apple, and Amazon are key players because they are the top solar adapters in the country. They've installed the most solar panels out of any other companies, which I think is amazing. We're trying to make strategic connections with these companies that are going solar to see if there are points of collaboration. I'm also talking to a lot of smaller companies, gardens, and farms that are looking to adopt custom solar panels, which has been really fun and awesome. At the same time, looking at feedback and pilot results, we could be fundraising to propel our product line. I'm also looking into getting more equipment to expand our product line – literally anything is possible! I also really want to make solar powered string lights – because of all the shapes that we can make, I've been looking into a product line that people can decorate rooms or go camping with.
Irene: We can't not mention your experience going on Shark Tank! Tell us a little bit about your experience and thoughts.
Krystal: I feel like there are so many things – my whole thing with starting GroupHug was being myself as much as possible. I chose to work on solar energy because I am passionate about it. These are things that I think should exist, and if people see that and want to be part of it, I think that's great. I'm a big believer that no one thing is going to solve everything, so I know that my solar panels are not going to solve the energy crisis. I think it has been a lot of finding my own niche and doing something that I care about, and just going for it. From starting GroupHug, I wasn't sure where I was going to go. From making one prototype to making ten, to going on Kickstarter, making it on Shark Tank, I realized I must be doing something right.
One thing that bothers me is the idea that you should be a fast growth startup or not. I don't necessarily want to be a hyper growth, crazy startup. A successful business doesn't have to go through hockey stick growth. I think businesses should (a) have customers that want what you're doing, (b) aligns with what you care about, and (c) has the business model that you're happy with. The pressure to grow, grow, grow can be counterproductive – I think doing what one thinks is right for the business is best.
I'm excited to be partnered with Mark Cuban because he saw the potential in our product. Before making anything official with investment, he came to my co-working space, and we talked about the company vision, business model, everything for him to give me his feedback. I definitely wasn't going to sign a portion of my company if we were on a completely different page. The reason why I like partnering with Mark is that we're in the same mindset of do more now and care more about revenue rather than valuation. I appreciated his advice of being focused and thinking about things in terms of revenue and growth, as it will open more options. Keep growing the company with customer demand has been my vision all along. I remember sitting down with him and telling him that this won't be a 5, 10x hockey stick growth company. He told me that it was fine, and asked me what I wanted to do and what I needed.
Irene: What are next steps for Group Hug?
Krystal: For the next 6 months, we're officially launching and shipping the window solar chargers. We think it's going to be a big gift item, so we are planning a holiday campaign. We're releasing pilots of custom-made solar panels for our B2B channel and talking to a number of partners, although we can't build anything right now. I've been talking to potential customers who would be interested in buying a solar panel in the next few months, so we can have people ready to purchase, use, and give feedback.